About Advanced Filtration
Advanced Filtration Company is as a privately owned engineering representative for manufacturers of filtration, separation and heat transfer equipment. John Woods founded Advanced Filtration Company in 1993. Since then we have honed the company into a resourceful entity for customers to rely on when seeking solutions to the challenges presented in their production and plant utility processes. These filtration challenges can be technical or economic.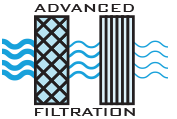 Advanced Filtration Company has Years of Experience
With many years of experience in the furnishing of filtration, separation and heat transfer products our activities have developed into the world wide arena. The staff at Advanced Filtration Company is capable, willing and prepared to offer our technical expertise and that of our numerous principles to users and also resellers of filtration, separation and heat transfer products. The industries we service include power generation, the bottled water and beverage industry and those involved with the production of inks, coatings, food products or in almost any industry whether clean fluids are necessary to enhance production.
Advanced Filtration our experts in multi-stage industrial filtration systems  that use pre-filters to improve the performance of the usually more expensive primary filter performance. When properly done multi-stage industrial filtration significantly reduces costs.
Additionally, our product scope is well suited for the pharmaceutical and biotech industries. In addition,  we can satisfy filtration, separation and heat transfer needs of producers of wet and dry chemicals, flavors and fragrances, marine and electroplating industries.
Our principal vendors work closely with us to provide the necessary filtration, separators and heat transfer equipment to satisfy the needs of our customers.
Advanced Filtration Company puts our customers a step ahead with the ever-changing and improving filtration technology. We strive for fair prices, prompt deliveries and your satisfaction!
Advanced Filtration is Ready to Help
Please contact us. Our sales engineers are eager to discuss your filtration, separation and heat transfer problems.