Syn-Pac A Bag Filter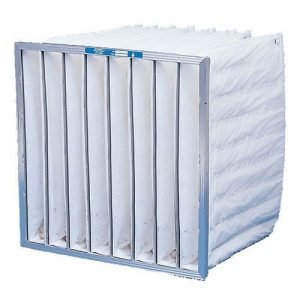 Syn-Pac A Bag Filter from Tri-dim
Tri-Dim's SYN-PAC E High Efficiency Extended Surface Class 1 Bag Filter features a progressive density synthetic media that offers high efficiency at a minimal resistance to airflow.
Tri-Dim's SYN-PAC E filters utilize an advanced dual layer meltblown media. The medias dual layers allow for depth loading – that is managing the dirt by capturing larger particles on the 'prefilter' layer and having the second layer focus on removing the smaller 'target' particles. Depth loading results in much higher dirt holding capacity – allowing for longer service life. A spun bonded scrim backing supports and protects the filter media. 
MOISTURE AND MICROBIAL RESISTANT
SYN-PAC E filters are an excellent choice for high humidity and high moisture applications. The fibers and other components of the SYN-PAC E bag filter are unaffected by high humidity or
moisture. There is no loss in efficiency or filter deterioration caused by moisture or humidity. Fiberglass bag filters are not recommended in applications where high humidity or moisture
might be present.
The Syn-Pac E filter media will not support microbial growth – an added benefit for high moisture and sensitive applications. Optional Antimicrobial Treatment can add even more
security. 
Sonic Sealed Pockets
Synthetic Media
Quality Construction
Antimicrobial Available
MERV 15, MERV 14, MERV 12 & MERV 10