Tri-Dim Micro-Pac 99 Bag Filter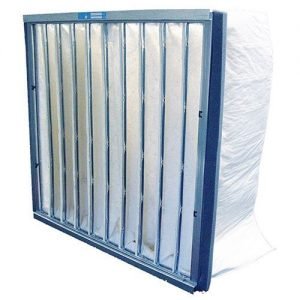 Tri-Dim Micro-Pac 99 features
98%+ Bacteria Efficiency
98% Day 1 Efficiency on 0.3-0.4 micron particles per ASHRAE 52.2
MERV 16
Quality Construction
Trusted Sealed Span Stitch
Various independent laboratories have tested the Tri-Dim Micro-Pac 99 filter – all with outstanding results. The ASHRAE 52.2 test results results rated the MICRO-PAC 99 at a MERV 16. This test showed 'Day 1' efficiency at 98% on 0.3-0.4 micron particles – nearing HEPA-level performance.
The MICRO-PAC 99 was also tested for Initial Bioaerosol Removal Efficiency per MIL Specification MIL-AA-54372A – during this test the filter media is challenged by the bioaerosol Micrococcus luteus and the MICRO-PAC 99 was documented to removed 98.87%. This number is significant because it represents efficiency on an actual bioaerosol – not just a replica particle of similar size.
Along with high efficiency, the Tri-Dim Micro-Pac 99 also features quality construction that includes an extruded aluminum header that will not rust. The MICRO-PAC 99  features the span stitch pocket construction sealed with a thermoplastic adhesive strip to prevent air bypass. The span stitch allows for the pocket to properly inflate and prevents bulging or collapsing during use. This allows for the maximum media utilization which reduces energy usage and extends the life of the filter.