Tri-Dim Predator II Filter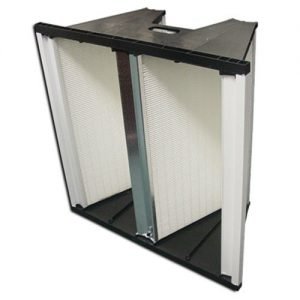 The Tri-Dim Predator II Filter is an effective, innovative, economical replacement to other high efficiency filters.
The PREDATOR II is a high efficiency V-Cell air filter that utilizes an all plastic frame with plastic and metal struts and micro-fiber media that is proven to produce consistent results in the test lab as well as in real  world applications.
Tri-Dim Predator II Filter offers
EASY REPLACEMENT
The PREDATOR II allows for easy upgrades from other high efficiency filters – in fact the PREDATOR II will fit into almost any holding frame or housing that holds a single header, double-header or no header filter.
Glass Microfiber Media
Easy Retrofit
Frame = 97% Reclaimed Content
Long Service Life
MERV 14, MERV 13 & MERV 11
The PREDATOR II uses a micro-fiber media that allows for high efficiency and does not utilize an electrostatic charge to increase efficiency so efficiency degradation will not be an issue. The media pack is bidirectional allowing for 'reverse' installation. The media pack uses HEPA mini-pleat technology and pleated in a clean room.
SERVICE LIFE
The Predator II's increased surface area is 50% greater than a conventional R-Cell, which reduces the number of filters you have to buy and reduces the change-out labor. Therefore you can focus on the essentials of your job or take that well deserved break.