Tri-Dim Predator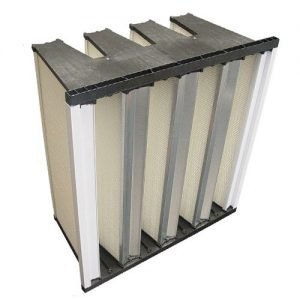 Tri-Dim Predator High Efficiency V-Cell Filter
Glass Microfiber Media
Low Resistance
Frame = 97% Reclaimed Content
Mechanical Efficiency
MERV 15, MERV 14, MERV 13 & MERV 11
The PREDATOR from Tri-Dim Filter Corporation is an effective, innovative, economical replacement to other high efficiency filters. The PREDATOR is a high efficiency V-Cell air filter that utilizes a plastic frame with plastic and metal struts and micro-fiber media that is proven to produce produce consistent results in the test lab as well as in real world applications.
Tri-Dim Predator Service Life
The Tri-Dim PREDATOR's increased surface area, greater than 235% more than an R-Cell and 85% more than an ASHRAE cell, reduces the number of filters you have
to buy. This also reduces service requirements. Increased surface area also leads to lower operating resistance. Lower resistance leads to a reduction in energy consumption, an important goal in most corporate Green Initiative programs.
The PREDATOR uses a micro-fiber glass media that allows for high efficiency and does not utilize an electrostatic charge to increase efficiency. The PREDATOR offers 'mechanical' efficiency so
efficiency degradation is not an issue. The media pack is bidirectional allowing for 'reverse' installation.