Mar Cor Minncare HD Disinfectant

Minncare HD Disinfectant from

Mar Cor Corporation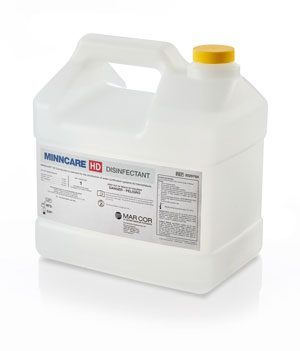 Minncare HD is the first chemical disinfectant to receive an FDA 510(k) clearance for the disinfection of water purification systems for hemodialysis.
Minncare HD is a peracetic acid solution developed specifically for use on hemodialysis reverse osmosis (RO) membranes and their associated distribution systems. .
Minncare HD is only available in the United States
Minncare HD eliminates the risk of using unregulated industrial chemicals in disinfection.
Minncare HD protects reverse osmosis membranes and their associated distribution systems against  bacterial problems. Minncare HD Disinfectant is a powerful oxidant that stops organism growth by oxidizing microbial cell proteins and enzyme systems and is effective against biofilms.
Biodegradable and Ease of Disposal
Minncare HD Disinfectant is biodegradable and poses no threat to waste treatment plants.
Why should you work with Advanced Filtration for your Mar Cor Corporation Equipment?
Advanced Filtration specializes in industrial filtration systems including the Power, Chemical, Pharmaceutical, Cosmetic, Biotech representing many companies. Our experienced filtration engineers are at the ready to assist you with the manufacturers and products that will work best for your company and application.
At Advanced Filtration we can combine solutions from a variety of companies and different technologies.