Van Air / Purepoint Systems
Advanced Filtration Company sells Van Air Systems and Purepoint Filtration Filters and Systems as well as a full line of Van Air Systems and Purepoint Filtration products, including:
Compressed Air/Gas Filters
Air & Gas Dryers 
Condensate Management
Aftercoolers
Mini Air Dryers
Adsorbent Dessicants
Air quality can be adversely affected by contaminants, such as water, oil and dirt which results in lower productivity, increased maintenance and higher operating costs.
The most prevalent contaminant in air and gas is water vapor, which enters the system at the compressor intake and is concentrated to the saturation point by compression. As cooling occurs downstream of the compressor, the moisture in this saturated air condenses into harmful liquid.
Van Air Systems gas dryers coupled with Advanced Filtrations' expertise will give you the right dryer for your application.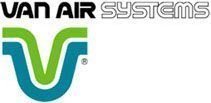 Van Air Systems  offers a variety of proven solutions for gas dehydration, whether the application requires meeting pipeline moisture specifications, inhibiting hydrate formation, preventing condensation in pipelines, or improving the combustible quality of fuel gas.
Contact us to learn more.  Request a quote on Van Air Systems and Filters / Purepoint Filtration for Air.