JD Cousins Products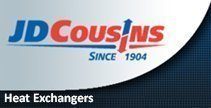 Advanced Filtration Company sells the full line of JD Cousins Products from JD Cousins heat exchangers to distillation columns and evaporators. JD Cousins specializes in equipment for the chemical processing, pharmaceutical, paper and pulp and power generation industries.
J.D. Cousins constructs all types of shell and tube exchangers.
Advanced Filtration Company offers numerous products and services for applications related to heat transfer and process equipment from JD Cousins including:
Heat Exchangers –  Consider J.D. Cousins when pressure, temperature, size or materials fall outside standard lines or when special requirements are needed.
Steam Condensers – J.D. Cousins' skid-mounted equipment can be pre-piped and wired to meet your system requirements. Components may include structural skid base, condenser, condensate pumps, air removal equipment, piping and valves, controls and instrumentation. J.D. Cousins specializes in designs that will minimize handling and field installation. Savings in labor and simplification of project scheduling can be expected.
Distillation Columns and Evaporators
Pressure Vessels
API 650 and 620 Tanks
Vessel Repair and Modification
EconoCool
Skid and Modular
"T" Type Basket Strainers
Request a quote on Heat Transfer and process equipment.
JD Cousins Products include: 
Condensers
Evaporators
Heaters
Coolers
Chillers
Feedwater Heaters
Dump Condensers
Hairpin
High-fin air cooler packages
Vaporizers
Superheaters
Inter/after coolers
U-tubes bundles

MATERIALS
Carbon Steel
Stainless Steel
Admiralty Brass
Nickel Alloys
Alloy 20, AL6XN, 2205 Duplex
Copper alloys
Aluminum
Titanium
Inco 800 & 800H
Hastalloy C-2,4, C-276

CODES
ASME Sec. VIII Div 1 (U and R stamp)
TEMA C, B and R
API 660, 618, 614