APEL International
Advanced Filtration Company sells the full line of APEL International Inc. filters.
APEL International Inc.,  also known as Apel Filters, designs and manufactures replacement cartridge filters, pleated bags, and fabric for dust collection, dry process filtration, and pollution control systems.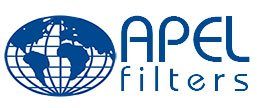 Some of the many APEL International Inc. filtration products Advanced Filtration can obtain and advice you on include:
APEL  Dust Collector Cartridge Filters
APEL  Oval filters as replacement filters for your Donaldson® Downflo® Oval Dust Collectors
APEL  FDA Compliant Filters
APEL  Pulse Jet Pleated Bags
APEL  High efficiency flat cell panel filters
APEL  Oil mist filters
APEL  Gas turbine filters
APEL  Dust Collector Fabric Filter Bags
APEL  Rolled Filter Media for Specific Applications  including APEL  Nonwoven Polyester, Paper, and Nanobond™ filter media
Why should you work with Advanced Filtration for  APEL filters?
Advanced Filtration specializes in industrial filtration systems including the Power, Chemical, Pharmaceutical, Cosmetic, Biotech representing many companies. Our experienced filtration engineers are at the ready to assist you with the manufacturers and products that will work best for your company and application.