Braden ExCel® Premier Web Filters
Advanced Filtration Company sells the full line of Braden Filtration LLC filters.

Braden ExCel Premier Web Filters which Advanced Filtration can obtain and advise you on:
Braden ExCel Premier Web Filters rated for MERV 15, F9 (efficiencies >70% @ 0.4 nano-m) meeting EN779-2012.
The industry's latest engineered nano performance ExCel® filter is available on most media types -including blended cellulose and 100% synthetic substrates. ExCel® Premier Web Filters provide superior return on investment over previous generation filters.
Optimized for the most challenging pulse jet cleaning applications
100% mechanical filtration technology (no "special fabric treatments" that quickly wear off).
Surface filtration technology
Hydrophobic performance with maximum wet strength
Durable construction using mechanical glue bead pleat separation
Hydrophobic and Super Hydrophobic surfaces treatments
ExCel Premier Web Pulse-Cleaned Filters for gas turbines PC13080(Cylindrical) and PC13081(Conical) F9 polyester /nanofiber pulsed gas turbine inlet filter.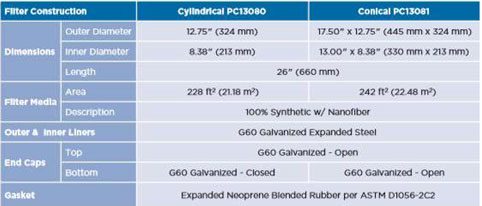 Superior Air Quality is Critical to the Life of your Turbine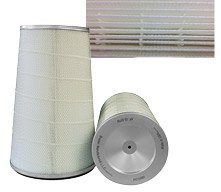 MERV 15, F9 technology helps eliminate:
Compressor blade erosion, fouling and corrosion
Cooler passage plugging
Rotor imbalance
Blocking of turbine blade roots
Calculating Return on Investment with Braden ExCel® Premier Web Filters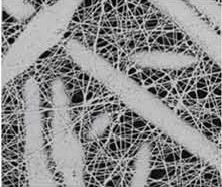 The largest expense during the life of a gas turbine is fuel cost. An 80 MW(Mega Watt) gas turbine will consume more than $23 million in fuel a year.
Dirty Compressors can increase fuel consumption by up to 5%
A decrease in pressure drop of 1″ of W.G. represents a savings of over $300,OOO/year (Based on $0.05 cost per KWH (Kilo Watt Hour) on a 150 MW(Mega Watt) GT(gas turbine)).
Why should you work with Advanced Filtration for Braden ExCel Premier Web Filters filters?
Advanced Filtration specializes in industrial filtration systems including the Power, Chemical, Pharmaceutical, Cosmetic, Biotech representing many companies. Our experienced filtration engineers are at the ready to assist you with the manufacturers and products that will work best for your company and application.