Farr "Tenkay" Flange Top Pulse Filter
Advanced Filtration Company sells the full line of Braden Filtration LLC filters including
Farr "Tenkay" Flange Top Pulse Filter 
for Farr style Tenkay dust collectors. Heavy-duty pulse style cartridges can be made from a variety of the highest quality filtration media including 80/20 synthetic/cellulose paper, 100% Synthetic paper and 100% Polyester spun bond nonwoven.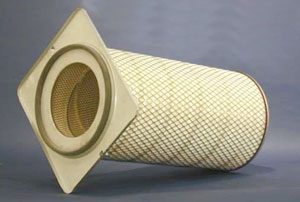 All media versions can have Premier Web nanofiber technology treated to the base media to enhance efficiency from MERV 11 up to MERV 15/F9 ratings.
Metal surfaces can be provided in G60, G90 or stainless steel, or power coated for improved corrosion resistance. improve the performance of the final filter by and draining coalesced water droplets away from the filter media surface.
Farr "Tenkay" Flange Top Pulse Filter Design Parameters
ASHRAE 52.2 / EN Rating @ 500 CFM MERV 10, 11, 15
Relative Humidity 100%
Media Surface Area Range 226 Ft²/ 21m² for 26" to 294 Ft²/ 27.3m² for 34"
Initial Pressure drop 0.050″ w.c. @ 500 CFM
Sizes 12.75" x 26", 12.75" x 29", 12.75" x 34"
Designed For Vertical Installation
Finish Options Premier Web™ Nano, HP Hydrophobic, Fire Retardant
Why should you work with Advanced Filtration?
Advanced Filtration specializes in industrial filtration systems including the Power, Chemical, Pharmaceutical, Cosmetic, Biotech representing many companies. Our experienced filtration engineers are at the ready to assist you.