Industrial Filtration Systems in the Pharmaceutical Industry
Here at Advanced Filtration, we work with industrial filter systems that provide filtration for all kinds industries, such as power, chemical, cosmetics, and biotech. In addition, we service pharmaceutical companies quite a bit, as their filtration needs are both specific and large. In this article, we're going to delve deeper in to the topic of how industrial filtration works in the pharmaceutical industry.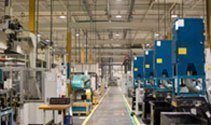 And to directly go to see what products we sell, check out our pharmaceutical manufacturing page.
Types of Filtration Used in the Pharmaceutical Industry
Maintaining the purity and quality of products within the pharmaceutical industry is incredibly important; and a critical component of achieving exceptional purity and quality is filtration. During the manufacturing process, the pharmaceutical industry places an enormous amount of significance on removing unwanted impurities and contaminants.
This is done through industrial filtration systems utilizing various types of filtration technologies, such as:
Membrane filtration
Depth filtration
Sterile filtration.
Industrial filtration systems play an essential role in enabling companies to generate products that are of the highest quality and meet regulatory standards.
Membrane Filtration
There are a variety of industrial filter products that the pharmaceutical industry may rely on, each product with its own special purpose. Membrane filtration is one filtration technology that removes impurities from liquids or gases by using a thin, semi-permeable membrane. This type of filtration is extremely efficient in removing bacteria, viruses, and other microorganisms that pose a significant risk to the pharmaceutical industry.
Additionally, membrane filtration is also used to remove impurities in water during the manufacturing process. In the manufacturing process, water is used in the preparation of solutions, the washing of equipment, and as a solvent in drug formulations. Water can also be a key source of contaminants that may impact pharmaceutical products. Membrane filtration helps purify the water used and ensures it is free of impurities that could impact a final product.
Depth Filtration
Unlike membrane filtration, depth filtration relies on a porous filter media in removing impurities and contaminants from liquids or gases. This filter medium is made up of a variety of materials, including cellulose, polypropylene, or fiberglass. It is designed to capture particles of varying sizes based on the specific filtration process requirements.
Due to its ease of use, as well as its simple maintainability, depth filtration is a popular choice for pharmaceutical manufacturers. It is an exceptionally efficient method of filtration because of its ability to filter a broad range of particle sizes.
Sterile Filtration
During the pharmaceutical manufacturing process, products that need to be injected or be maintained in sterile environments commonly rely on sterile filtration. By using a filter with a pore size that is small enough to trap and remove microorganisms, bacteria, and viruses, this filtration process ensures the safety and efficacy of pharmaceutical products. Considering the fact that even a small amount of contamination can have detrimental consequences for a patient's health, sterile filtration is a crucial step in minimizing the risk of impurity.
Additionally, sterile filtration can be employed in other pharmaceutical processes such as vaccine production, biotech, and medical device manufacturing. By preventing microbial contamination, sterile filtration plays a pivotal role in maintaining the product's integrity.
Biologics and Industrial Filtration
Filtration systems are also crucial in the production of biologics. Biologics are complex molecules obtained from living organisms, like proteins or antibodies. This means that they are incredibly sensitive and susceptible to contamination and damage during the manufacturing process. Typically involving multiple stages of filtration, to remove impurities of varying sizes, each stage requires a specific type of filter.
For example, during the first stage of filtration, a depth filter may be used to remove any larger impurities while subsequent stages may use a combination of membrane and chromatography filters to remove smaller contaminants.
Biologics are commonly used to treat life threatening diseases; therefore, the implementation of efficient filtration systems is vital to the biologics' safety and effectiveness.
Improving Efficiency In Manufacturing With Filtration
Industrial filtration systems in the pharmaceutical industry not only ensure product quality, but they also enhance manufacturing efficiency, in turn improving productivity and reducing costs. Impurities, contaminants, and other bacteria, if found, can lead to product failure or increased production time. By using excellent and relevant filtration systems, pharmaceutical manufacturers can prevent many issues downstream in the production process that may drive up costs.
Examples of these issues are:
Clogging of equipment
Increased frequency of equipment maintenance
Shortening of the lifespan of equipment.
Testing & Rework
Additionally, the need for additional testing or rework in the production process may be reduced through the implementation of high quality filtration systems. To ensure that the final products meet required regulatory standards, filtering out impurities early in the process is paramount. This results in the reduction of unnecessary additional testing outside of the original production process.
By minimizing the need for additional testing when manufacturing a product in the pharmaceutical industry, a company may reap the rewards of significant cost savings. Furthermore, the early detection of impurities will also ensure that the maximum amount of product is being produced from the raw materials being used in the manufacturing process.
Reach Out To Advanced Filtration For All Your Filter Systems Needs
Regardless of what industry you're in, Advanced Filtration has the products you need. Reach out today for a free consultation or quote by calling (732) 901-6676 or filling out the form on our contact page.
Advanced Filtration's Industrial filtration experts provide you with the information you need to properly select filters for any industrial application or production issue. 
Advanced Filtration ships throughout the world and offers on site support and service to the New York and Philadelphia metro areas including all of New Jersey, eastern Pennsylvania, southwestern Connecticut and southern New York State.
Please fill out the form below, call us, or, if you know what you are looking for, request a quote. 
John Woods founded Advanced Filtration in 1993 as a privately owned engineering representative for manufacturers of filtration, separation and heat transfer equipment. With more than 25 years in industrial filtration John offers a level of expertise to every sales consultation.