Braden Pocket Pleat Filters
Advanced Filtration Company sells the full line of Braden Filtration LLC filters including Braden Pocket Pleat Filters.

Braden Filtration designs and manufactures replacement cartridge filters, pleated bags, and fabric for dust collection, dry process filtration, and pollution control systems.
Some of the many Braden Filtration LLC filtration products Advanced Filtration can obtain and advice you on include:
Braden Pocket Pleat Filters – Gas Turbine Air Intake System Filters
Pocket Pleat filters are specially designed to remove smaller contaminants such as fine dust and soot. The synthetic fiber filter is constructed to withstand extreme humidity, high velocities and turbulence. It excels for use as prefiltration and coalescing for air inlets of gas turbines.
Features
Synthetic depth loading high capacity filter media.
Fully recyclable frame and media
Low pressure drop non-shedding fibers
Coalesces moisture
High durability construction
Rigid, Self-supported filter pocket
Benefits
Higher capacity than panel type pre-filter
Lower Operating Pressure drop
High burst strength
Extended filter life
Braden Pocket Pleat Filter's Construction
High strength impact resistant header
Individual pleat spacers
Ultrasonically welded stitching
UL 900 Class 2 Flammability Certification
Advanced Filtration often recommends model ME6130WG6, the Water Gauge – G4 Braden Pocket Pleat Filter.
592 x 592 x 320 mm Synthetic Non-woven w/ pocket fill channel with Impact Resistant Plastic – Black frame, Seamless Polyisoprene gaskets, Efficiency G4 – Per EN779 of ISO Coarse – 60%, Burst Strength using a Breach Test > 25" H20 Final Resistance, Air Flow vs Resistance (Clean Device) of 47.17 Pa @ 4250 m³/Hr, and a Final Pressure drop of 250 Pa.
Braden Pocket Pleat Filters available include PP8-5965-G4, PP8-5965-M5, PP8-5965-M6, PP8-5965-F7. Braden Pocket Pleat Filter specifications are listed in the table below.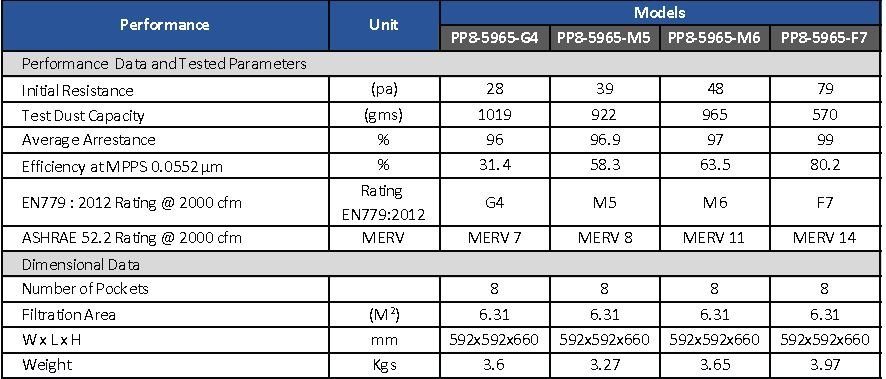 Why should you work with Advanced Filtration?
Advanced Filtration specializes in industrial filtration systems including the Power, Chemical, Pharmaceutical, Cosmetic, Biotech representing many companies. Our experienced filtration engineers are at the ready to assist you.