Quality Industrial Filtration Services for Your Company
Here at Advanced Filtration, we take industrial filtration seriously. If you're reading this, you probably already know how important a filtration system is, and how your company's success or failure might come down to one wrong part. We aim to make sure that you get the right equipment for your industry at the right price, every time.
Filtration Systems And You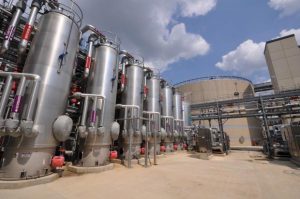 Filtration system in an industry counts a lot in the extent of your industry's success. If you have at one time had a broken filtration system in your company, then you will know the need of having a quality industrial filtration system. At Advanced Filtration, we are guided by our well laid down strategies in order to serve all our clients with quality filtration services. We take every single detail that is offered to us by our clients with utmost professionalism. Our many years of experience has enabled us offer quality and cost efficient filtration system. We address all the issues that are presented to us from many angles. We pride to have handled a variety of projects and by hiring us, you are guaranteed quality work.
Our Filtration Products Support A Variety of Industries
We offer quality systems that suit your industrial water processing, cooling, discharge and re-usage of your company's water. We have served many industries including, food and beverage industries, clothing and coating, schools, airports and automotive industries among many others. Our filtration systems use the latest tools and parts that certified to meet the internationally set standards. We guarantee that you will keep your system upgraded to meet the current technological needs. We also incorporate the latest and advanced engineering concepts to customize your filtration system to suit all your needs. We are fully accredited, licensed and insured to offer quality work to you
Nonetheless, our filtration engineers are fully trained and certified to serve you well. They are adept in inspecting, listening and serving you the way you want. We address issues such as clogging, fouling and abrasive wear in your system. We also work to ensure that we reduce that extensive maintenance downtime and also replace your broken parts. Moreover, we also work to ensure that we remove any troublesome liquids from your system that will reduce the life of your system.
How Advanced Filtration Works With You
All our processes are transparent and that we make you aware of any step that we provide to you. Our services are available at the most affordable prices compared to those of our competitors. This has enabled us keep going and we pride also to have extended our markets to serve even the global customers. All our systems are suitable for both low and high viscous liquids like the solvents, coolants and honing or cutting oils. We also help you solve any problem that is related to your system and not only provide you with quality equipment. We provide fast turnaround services as we value so much on your time. We have built a solid trust with all the clients that we have served through our highly responsive services.
We obtain all the parts that we use from the top manufactures that are recognized worldwide. Our technical support team is ready to serve you any time you call or contact us. In case you want a free estimate for your project, then we are ready to serve you. We have the solution to all your industry filtration needs.
Contact Advanced Filtration Today
Our Industrial Filtration services are extensive and will meet all your needs. Contact us at Advanced Filtration and we will engineer our services to suit your demands. We are proud to serve you.
Advanced Filtration's Industrial filtration experts provide you with the information you need to properly select filters for any industrial application or production issue. 
Advanced Filtration ships throughout the world and offers on site support and service to the New York and Philadelphia metro areas including all of New Jersey, eastern Pennsylvania, southwestern Connecticut and southern New York State.
Please fill out the form below, call us, or, if you know what you are looking for, request a quote. 
John Woods founded Advanced Filtration in 1993 as a privately owned engineering representative for manufacturers of filtration, separation and heat transfer equipment. With more than 25 years in industrial filtration John offers a level of expertise to every sales consultation.